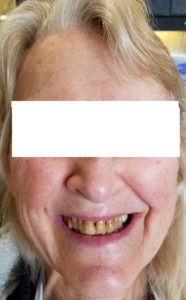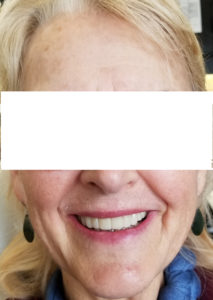 It is easy for us to talk in general terms about how we are able and willing to help our patients achieve their smile goals. However, as they say, talk is cheap. We would like to share the story of one of our dear patients with you to show you how we help people enjoy all the benefits of an attractive, healthy mouth. Let's discuss how we enabled her to transform her stained, damaged teeth and achieve a confident smile that she is now proud to show off.
The Patient's Dental Issues
Our patient, a 67-year-old woman, visited us because she was unhappy with the way her smile looked. She had significant staining on her teeth, as well as a number of discolored old fillings. We carefully listened to her express her concerns and goals for treatment.
We also performed a diligent evaluation of her smile and oral health. We discovered that in addition to the discoloration, there were other factors that were taking away from her smile's appearance. Those factors included gum recession, misshapen anterior teeth due to past teeth grinding, a narrow V-shaped upper jaw, and a lack of anterior guidance. (Essentially, a lack of anterior guidance means that the upper and lower front teeth were not touching each other the way they should. Proper anterior guidance is critical in bite function and in preventing damage to the back teeth.)
We recommended that the patient undergo full mouth rehabilitation.
The Full Mouth Rehabilitation Process
Full mouth rehabilitation is more than a single treatment. Rather, it is a treatment plan that aims to correct serious and complex dental issues. After we carefully listened to our patient and considered the results of her exam, we designed a custom full mouth rehabilitation plan for her. The process involved many procedures, such as crowns, bridges, and veneers. Occasionally during full mouth rehabilitations, we also team up with other local dental specialists. We executed our patient's plan with precision and care.
The final results were outstanding! The patient was thrilled with the outcome and loved her new smile. Now, she will be able to enjoy renewed confidence, and even more important, a highly functional bite.
Are You Ready for the Smile of Your Dreams?
Can you relate to the patient whose story is described above? If you have significant issues plaguing your teeth, why hold back from getting professional help? A skilled dental team can combine the power of art and science to help you get the smile of your dreams. After the process is complete, you may have much more than a new smile. You may have a new lease on life!
About Cambria Smiles
Drs. Badhan, Van Sicklen, and Fratto are the talented dentists who lead our team. They work together to provide a broad range of services, including full mouth rehabilitation. Their advanced training equips them to perform a number of complex procedures, including dental implant placement and restoration, veneers, and so much more. To learn how they may be able to address your unique oral health and aesthetics concerns, contact Cambria Smiles at 805-927-4811 or use our online form to request an appointment.