ClearCorrect® Clear Braces – Cambria, CA
Straighter Teeth without the Metal

If you've always wanted to straighten your teeth but have avoided doing so because you thought the only option was metal braces, know that those days are now over! With ClearCorrect, you can finally get the straighter smile you've always wanted without compromising your daily appearance or diet in the process. Similar to Invisalign, ClearCorrect clear braces offer patients straighter smiles without compromising daily appearance or diet in the process and you can get it right here at Cambria Smiles.
Why Choose Cambria Smiles for Clear Correct® Clear Braces
Straightens teeth without noticeable brackets and wires
Doesn't interfere with your diet or oral hygiene routine
Custom-designed for every patient
How Does ClearCorrect Work?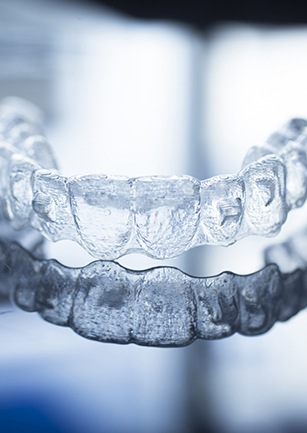 Instead of metal brackets and wires, ClearCorrect uses a series of clear plastic aligner trays to gently shift the teeth. They fit comfortably over the teeth and apply a small but consistent pressure that slowly brings them into their correct positions. All a patient has to do is wear their entire series to completely fix crooked, crowded, and gapped teeth.
Adult patients and teens love ClearCorrect because the trays are practically invisible, meaning their friends and coworkers won't know they are undergoing orthodontic treatment. Plus, whenever it is time to eat or brush, patients can simply take their trays out until they are done. Also, in many cases, ClearCorrect is able to straighten the teeth in just 12-18 months compared to 2-3 years with braces.
To learn more about ClearCorrect and what it could do for your smile, contact Cambria Smiles today.