Dental Implants – Cambria, CA
Say Goodbye to Gaps

Are you ready to have your missing teeth back? With dental implants, the team at Cambria Smiles can give you the next best thing to nature whether you are missing a single, multiple, or all of your teeth. Dental implants are the premier solution for rebuilding smiles available today, and they can easily last for 30 years or more. We've already helped hundreds of patients reclaim their oral health and confidence with dental implants, and we can do the exact same for you.
Why Choose Cambria Smiles for Dental Implants
Both placement & restoration performed in-house
Only use the most advanced technology, techniques, & materials
Highly-experienced team with hundreds of successful cases
Benefits of Dental Implants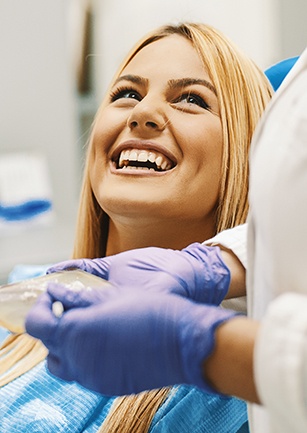 What makes dental implants so special? They are actually the only treatment that replaces an entire missing tooth both above and below the gum line. Traditional bridges and dentures typically only restore the crown of a tooth, or the part you can see, and not the root. While they may look great, this makes them inherently unstable, which causes them to inevitably break down over time.
Implants, on the other hand, consist of a titanium prosthetic root that is placed directly into the jawbone, and this is what supports the new tooth that shows in the smile. This makes the restoration much more durable, plus the root actually provides internal support for the jawbone, stopping and even reversing the bone loss that is common after tooth loss.
Dental implants are also extremely reliable, having a 98% success rate when placed by a qualified dentist. At Cambria Smiles, all of our dentists have undergone special training focused on implants and take continuing education every year to further refine their skillsets.
Indications for Dental Implants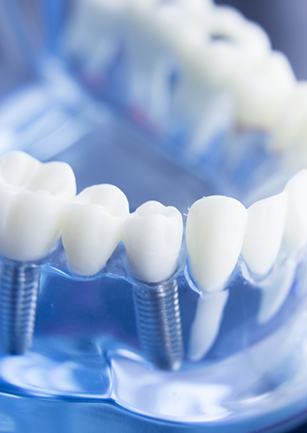 Fortunately, most patients with missing teeth are good candidates for dental implants despite how many teeth they might be missing. Implants are quite versatile and capable of supporting a variety of different restorations:
Missing One Tooth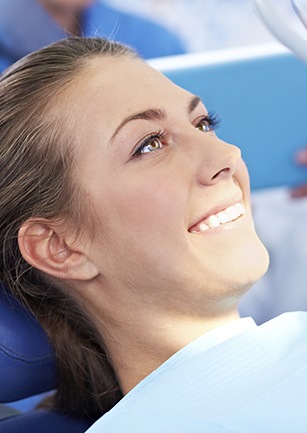 After the prosthetic root has been placed, we can attach a custom-made, all-porcelain crown to it using a small metal connector called an abutment. The porcelain will be shaded to perfectly match a patient's enamel, and the new tooth will be indistinguishable from those around it thanks to its two-part structure.
Missing Multiple Teeth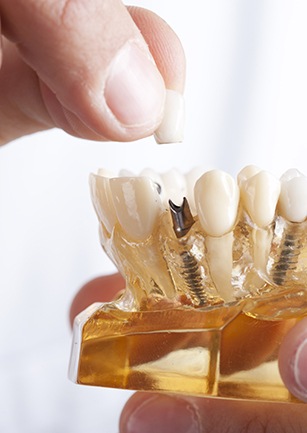 If a patient is missing more than one tooth in a row, implant crowns can actually be used to support a bridge as well. Two implant crowns are placed on either side of the missing ones, and these are bonded to additional prosthetic teeth to close the gap, restoring the appearance and function of the smile at the same time.
Missing All of Your Teeth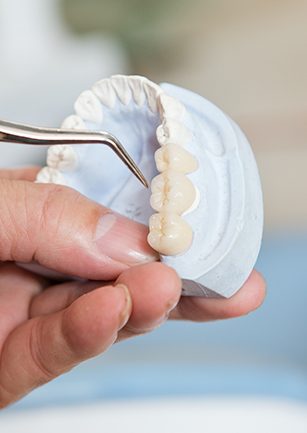 Implant-dentures are secured directly to the jawbone, and they offer a stability and longevity traditional removable dentures simply can't match. Implant dentures have also been shown to restore much more of a patient's bite strength, enabling them to enjoy a wider variety of foods with ease. And, with the patented All-on-4 procedure, we can even replace an entire row of teeth in just one well-planned visit.
Start to Finish Convenience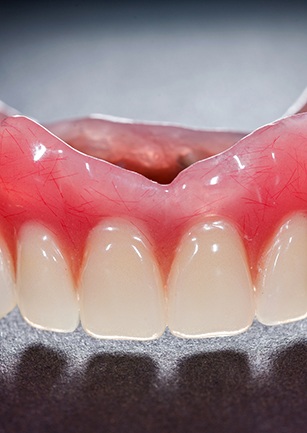 At Cambria Smiles, we're proud to say that our team is capable of handling the entire implant procedure, both placement and restoration, all under one roof. Most other offices have to refer their patients to an outside specialist to have their implants placed, which slows down the process and often adds a lot of expense as well. Here, however, patients are able to work with the same dentist and team that they trust from beginning to end, ensuring a smooth journey to their renewed smile.
Understanding the Cost of Dental Implants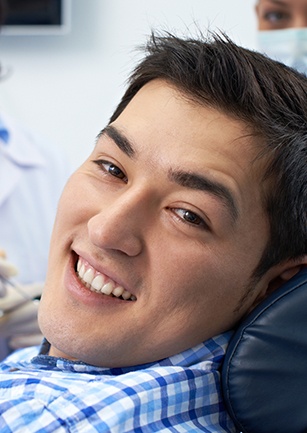 As we touched on above, the implant procedure is usually broken down into two distinct phases: placement, where the new roots are positioned within the jawbone, and restoration, where the new teeth are attached to the roots. The cost of these procedures can vary quite a bit from patient to patient depending on a few determining factors, such as how many teeth they want to be replaced, where they are located, and if they require any procedures beforehand (such as a bone graft or tooth extraction).
While dental implants do tend to be more expensive than traditional bridges and dentures up front, they are usually the most cost-effective option overall. Why? In addition to their unmatched natural appearance and functionality, they also have tremendous longevity. Regular bridges and dentures usually need to be completely redone every 7-10 years, compounding their cost, while dental implants can easily last for 30 years or more. Over the long term, they can easily save a patient thousands in dental treatment.