Dental Implants – Cambria, CA
Say Goodbye to Gaps

Are you ready to have your missing teeth back? With dental implants, the team at Cambria Smiles can give you the next best thing to nature whether you are missing a single, multiple, or all of your teeth. Dental implants are the premier solution for rebuilding smiles available today, and they can easily last for 30 years or more. We've already helped hundreds of patients reclaim their oral health and confidence with dental implants, and we can do the exact same for you.
Why Choose Cambria Smiles for Dental Implants
Both placement & restoration performed in-house
Only use the most advanced technology, techniques, & materials
Highly-experienced team with hundreds of successful cases
Benefits of Dental Implants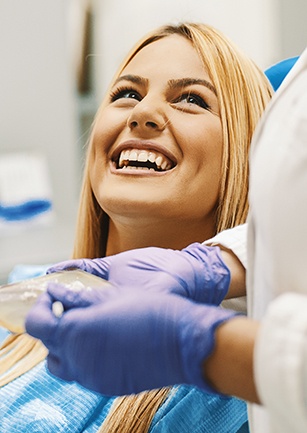 What makes dental implants so special? They are actually the only treatment that replaces an entire missing tooth both above and below the gum line. Traditional bridges and dentures typically only restore the crown of a tooth, or the part you can see, and not the root. While they may look great, this makes them inherently unstable, which causes them to inevitably break down over time.
Implants, on the other hand, consist of a titanium prosthetic root that is placed directly into the jawbone, and this is what supports the new tooth that shows in the smile. This makes the restoration much more durable, plus the root actually provides internal support for the jawbone, stopping and even reversing the bone loss that is common after tooth loss.
Dental implants are also extremely reliable, having a 98% success rate when placed by a qualified dentist. At Cambria Smiles, all of our dentists have undergone special training focused on implants and take continuing education every year to further refine their skillsets.
Indications for Dental Implants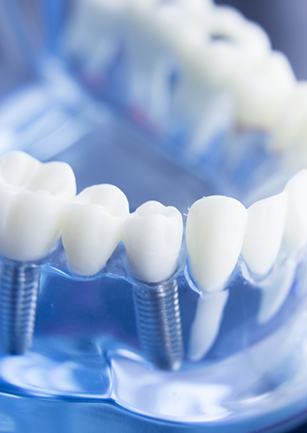 Fortunately, most patients with missing teeth are good candidates for dental implants despite how many teeth they might be missing. Implants are quite versatile and capable of supporting a variety of different restorations:
Missing One Tooth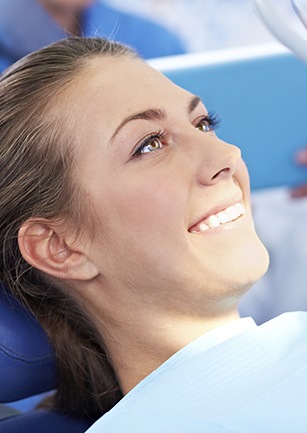 After the prosthetic root has been placed, we can attach a custom-made, all-porcelain crown to it using a small metal connector called an abutment. The porcelain will be shaded to perfectly match a patient's enamel, and the new tooth will be indistinguishable from those around it thanks to its two-part structure.
Missing Multiple Teeth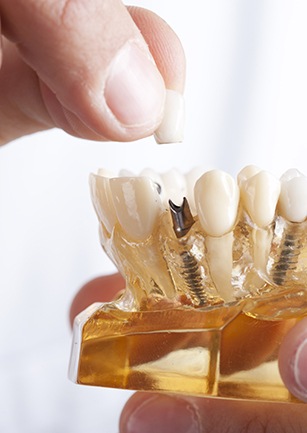 If a patient is missing more than one tooth in a row, implant crowns can actually be used to support a bridge as well. Two implant crowns are placed on either side of the missing ones, and these are bonded to additional prosthetic teeth to close the gap, restoring the appearance and function of the smile at the same time.
Missing All of Your Teeth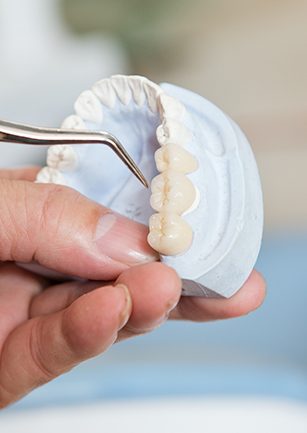 Implant-dentures are secured directly to the jawbone, and they offer a stability and longevity traditional removable dentures simply can't match. Implant dentures have also been shown to restore much more of a patient's bite strength, enabling them to enjoy a wider variety of foods with ease. And, with the patented All-on-4 procedure, we can even replace an entire row of teeth in just one well-planned visit.
Start to Finish Convenience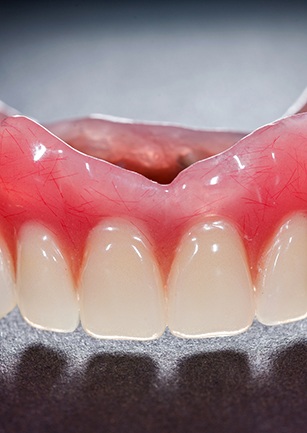 At Cambria Smiles, we're proud to say that our team is capable of handling the entire implant procedure, both placement and restoration, all under one roof. Most other offices have to refer their patients to an outside specialist to have their implants placed, which slows down the process and often adds a lot of expense as well. Here, however, patients are able to work with the same dentist and team that they trust from beginning to end, ensuring a smooth journey to their renewed smile.
Understanding the Cost of Dental Implants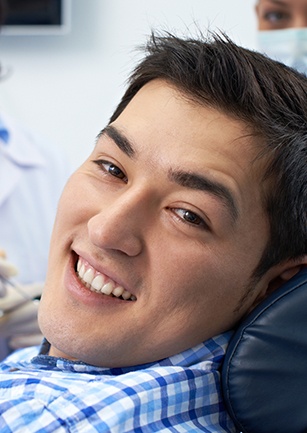 As we touched on above, the implant procedure is usually broken down into two distinct phases: placement, where the new roots are positioned within the jawbone, and restoration, where the new teeth are attached to the roots. The cost of these procedures can vary quite a bit from patient to patient depending on a few determining factors, such as how many teeth they want to be replaced, where they are located, and if they require any procedures beforehand (such as a bone graft or tooth extraction).
While dental implants do tend to be more expensive than traditional bridges and dentures up front, they are usually the most cost-effective option overall. Why? In addition to their unmatched natural appearance and functionality, they also have tremendous longevity. Regular bridges and dentures usually need to be completely redone every 7-10 years, compounding their cost, while dental implants can easily last for 30 years or more. Over the long term, they can easily save a patient thousands in dental treatment.
Maintaining & Caring for Your Dental Implants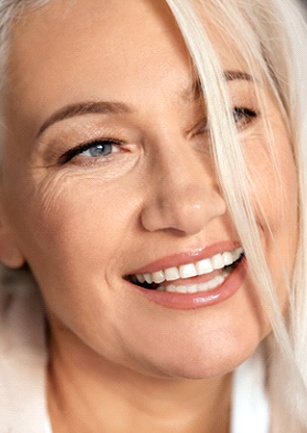 Dental implants are quickly becoming the treatment of choice by many patients because they have the potential to keep your smile strong and healthy for a lifetime. However, that's only the case if you protect them against damage or infection. At Cambria Smiles, we want you to enjoy your fully functioning grin, which is why we've compiled a list of ways you can maintain your implants. To learn more, continue reading or give our office a call today!
Make Oral Hygiene a Priority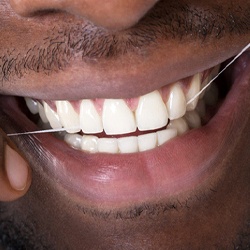 Once your new smile is all healed up, you'll need to take proper care of it by practicing good oral hygiene. Just because your implants can't get cavities doesn't mean you can slack off on taking care of your teeth and gums. You must continue brushing twice a day, flossing daily, and rinsing daily with an ADA-approved mouthwash to prevent harmful oral bacteria from attacking your dental implants.
Eat a Healthy Diet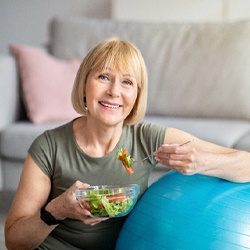 Even though you can eat almost anything you want with dental implants, you should avoid overindulging in starchy, sugary, and acidic foods. They can wreak havoc on your smile, increasing your risk of dental implant failure. Instead, it's best to maintain a healthy diet full of nutritious foods, such as whole grains, lean proteins, dairy products, fresh fruits, and vegetables. Eating foods rich in calcium and vitamin C will
Break Bad Habits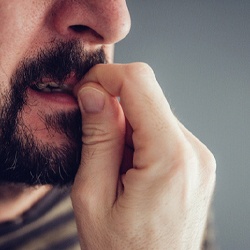 Are you guilty of any poor habits? Smoking, biting your fingernails, using your teeth as tools, and chewing on pens or pencils can be detrimental to your dental implants. Do your smile a favor and kick these habits to the curb as soon as possible. If you need help, don't hesitate to reach out to our team at Cambria Smiles for resources, support, and guidance.
Protect Your Dental Implants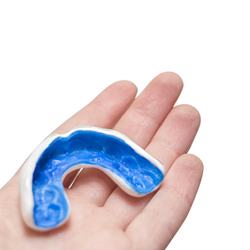 Dental implants are certainly strong, but they're not indestructible. If you regularly play sports or grind your teeth at night, you should ask our dental team about a custom-made oral device. An athletic mouthguard can keep your mouth safe against any impact should you sustain a blow to the face. Meanwhile, a nightguard will keep your enamel safe from the force of grinding your teeth at night.
Schedule Regular Dental Checkups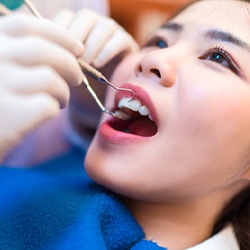 Aside from practicing good oral hygiene, you must visit your dentist every six months to keep your mouth in optimal condition. We'll review your prosthetics and monitor your oral health to ensure no problems are developing. By addressing issues early on, you can avoid needing complex and expensive procedures down the line.
Dental Implant FAQs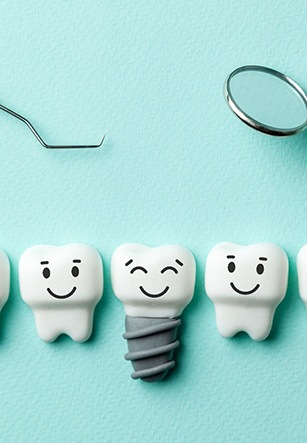 Dental implants are a preferred tooth replacement option thanks to their numerous benefits. However, they are quite an investment, so it pays to be well-informed about the procedure. The good news is that we are here to help! Here are the answers to some of the most common questions we receive about dental implants in Cambria. If you don't see that information that you're looking for below, don't worry. Give us a call and we'd be happy to answer your questions and get you started with an initial consultation where you can learn more.
How Long Do Dental Implants Last?
The lifespan of dental implants typically depends on the health and lifestyle choices of the patient. To ensure that implants last, it's important to brush, floss, and rinse with a mouthwash daily. Attend regular checkups and cleanings, and avoid chewing of foods that are particularly hard or sticky. With proper maintenance, dental implants can last upwards of 30 years. This is several times longer than traditional bridges or dentures.
Does Getting Dental Implants Hurt?
The jawbone doesn't have very many nerve endings, and your mouth will be numbed with a local anesthetic before the procedure begins. You will also most likely be sedated, lowering your body's ability to register pain. While you shouldn't feel any pain during the surgery, your mouth may feel sore for a few days following the placement. To reduce this, take recommended over-the-counter and prescribed pain relievers as directed by your dentist. Cold compresses can also help. If discomfort worsens instead of improving after two or three days, give us a call!
Am I Too Young to Get Dental Implants?
Most dental professionals won't place dental implants in patients younger than 18. This is because when implants are placed before the jaw has finished growing, it could interfere with further bone development and potentially result in complications. Most people's jaws aren't fully developed until young adulthood. Some people's take until their mid-20s to have a completely developed jawbone.
Can I Get Dental Implants If I'm Diabetic?
If your diabetes is under control, your odds of dental implant success are generally comparable to those of nondiabetic patients. Uncontrolled diabetes can slow down the healing process, making it more difficult for your implants to integrate with your jawbone. If you're interested in getting dental implants but are diabetic, talk to your endocrinologist or primary care physician about getting your blood sugar levels under control beforehand.