Multiple Tooth Extractions – Cambria, CA
Safe & Comfortable Extractions

While removing a single tooth is a relatively simple procedure, extracting more than one at the same time takes a little more skill and planning. Most other dental offices will refer their patients to another doctor for this kind of procedure, but at Cambria Smiles, we're able to provide everything our patients need right at home. No matter how many teeth you might need to have removed, you can look forward to a comfortable procedure and easy recovery on the road to rebuilding your smile.
Why Choose Cambria Smiles for Multiple Tooth Extractions
Sedation available to ensure a comfortable procedure
Kind, caring, & highly experienced team
Multiple replacement options available in-house
How a Multiple Tooth Extraction Works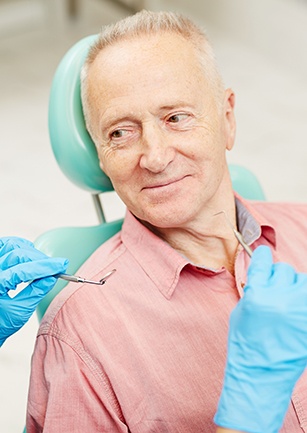 In most cases, the reason we would choose to extract multiple teeth is to create room in the mouth for a new denture. It's very common for dentists to extract any remaining damaged teeth so they can design a prosthetic that will fit better in a patient's mouth.
The process of extracting multiple teeth closely resembles the one used to remove a single tooth. First, the dentist will numb a patient's mouth with local anesthesia, and then they will hold a tooth with a pair of dental forceps. At this point, they will gently rock the tooth back and forth until it slips out on its own. We never actually "pull" teeth here! This will be repeated until all of the necessary teeth have been removed. A dressing will be placed over the treatment area, and then the patient will be advised to go home and take the rest of the day off. After a day or so of recovery, they'll return to our office for a follow-up and to discuss their replacement options (if this hasn't already been done).