Root Canal Therapy – Cambria, CA
Precise & Comfortable Pain Relief

You wake up one morning, and that minor toothache you've been feeling for the past few weeks is now a massive, throbbing pain that is radiating throughout your entire head. All you can think about is doing whatever you can to relieve the pain, but what should you do next? Fortunately, all you need to do is pick up the phone and give Cambria Smiles a call. We're able to address many kinds of acute dental pain in-house, and in cases like yours, the answer may be root canal therapy. Despite its scary reputation, it is actually one of the best tools we have to stop extreme dental pain and save damaged teeth from extraction.
Why Choose Cambria Smiles for Root Canal Therapy
Procedure is practically painless thanks to modern technology
Kind, caring, & experienced dental team
Able to save even the most damaged teeth from extraction
Why Would I Need a Root Canal?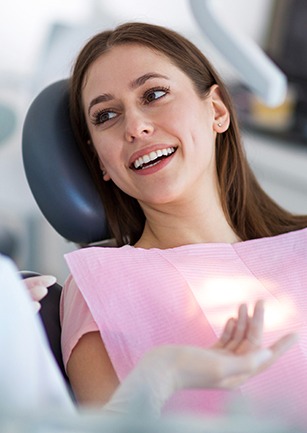 Severe dental pain or sensitivity in one tooth usually indicates an infection that has reached the dental pulp, which is a bit of soft tissue located inside every tooth where the delicate nerve is located. This is usually the result of a longstanding cavity or a crack in the enamel that exposed the pulp to bacteria. In general, you may require a root canal if you experience one or more of the following symptoms:
Extreme pain or sensitivity in one tooth
Redness or swelling in the gums around a tooth
Pain biting down on a tooth
A pimple-like bump on the gums next to a tooth
How a Root Canal Works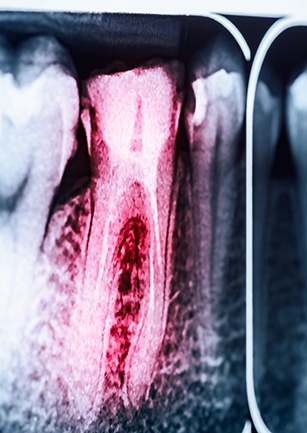 After examining your tooth and determining that yes, it does have an internal infection, your dentist at Cambria Smiles will suggest that you undergo a root canal. We understand that this procedure makes many patients nervous, so we're always happy to answer questions beforehand to make the process easier.
When you come in for the procedure, your dentist will start by numbing your mouth, and then they will create a small hole in your tooth to access the damaged pulp. They will remove the pulp, clean the inside of the tooth, and replace the tissue with a material called gutta percha. They will then place a temporary filling over the tooth, and at a follow-up visit, it will be completely rebuilt using a dental crown.
Thanks to modern-day dental techniques, most patients report feeling little to no discomfort during the procedure, and recovery typically takes about a day or two.