Dentures & Partial Dentures – Cambria, CA
Get Your Complete Smile Back

Are your missing teeth making your life a little harder every single day? Do they force you to limit your food choices, avoid certain words, and think twice before smiling? If so, you're far from alone, and Cambria Smiles is ready to help you like we have so many others in your situation. With custom-made dentures, we can fill in the gaps in your smile and restore your oral health and confidence at the same time.
Why Choose Cambria Smiles for Dentures & Partial Dentures
Specially designed for each individual patient
Removable & implant-retained dentures available
Designed to look great, fit comfortably, & last a lifetime
Denture Basics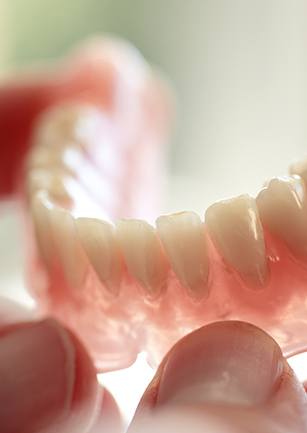 You've probably seen a denture before, but do you know what they're actually made of? A denture is a type of prosthetic used to replace multiple missing teeth located throughout the mouth. In the past, they were often made using metal or animal teeth, but fortunately, dentistry has come a long way since then! Now, modern-day dentures consist of ceramic teeth attached to an acrylic, gum-colored base. Each one provided by Cambria Smiles is custom-made for each patient so that it fits comfortably, looks completely natural, and restores all oral function.
The Types of Dentures We Provide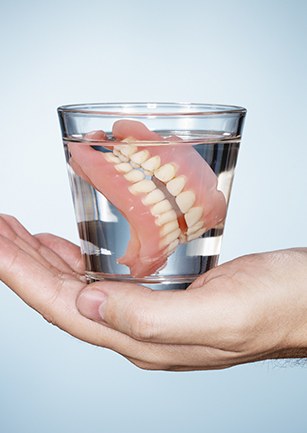 Full Dentures: These are used to replace an entire row of natural teeth, and they are likely what you think of when the word "dentures" comes to mind. The prosthetic teeth are embedded into the gum-like base, and it fits directly over a patient's gums using natural suction/a bit of denture adhesive.
Partial Dentures: If a patient still has a few healthy teeth left along a single dental arch, then we can create a partial denture that will fill in the gaps like the missing piece of a puzzle. Unlike full dentures, partial dentures are held in place using small metal clasps that fasten onto neighboring teeth for support.
Implant-Retained Dentures: Implant dentures look just like traditional ones above the gum line, but the difference lies below the surface. Instead of being removable, these dentures are secured directly to the jawbone using multiple dental implant posts that act like new tooth roots. This gives them a security and stability that regular dentures simply can't match, plus they help support the jawbone and prevent the bone loss that is common after tooth loss.
Which One is Right For You?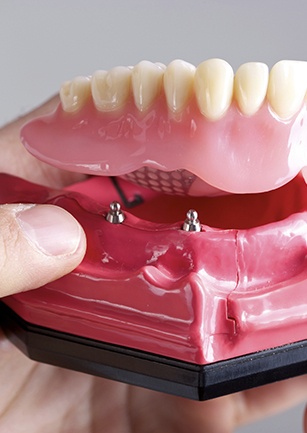 If you're ready to reclaim your smile, then we invite you to schedule a denture consultation here at Cambria Smiles. Our team will briefly examine your mouth, take a few diagnostic images, and then we'll discuss your denture options. Once you and your dentist decide on which one is best for you, they can start the process of creating your denture at the next appointment.
Ready to stop dealing with your missing teeth? Want to know more about your denture options? If so, give Cambria Smiles a call today to schedule an appointment.