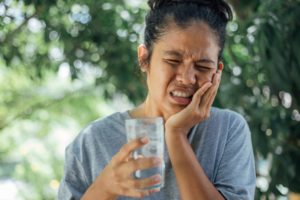 Have you sipped on a coffee or ice water and wondered, "Why are my teeth sensitive to hot and cold?" Tooth sensitivity isn't always a serious concern. In fact, it's a common oral condition that affects millions of Americans. It can also be a side effect of oral health problems like a cavity or infection.  Fortunately, there are multiple at-home remedies to help reduce your discomfort. Read on to learn what could be causing your sensitivity and how you can combat it.
Why Does Temperature Affect My Teeth?
The outermost layer of your tooth is called the enamel. It protects tiny tubes that are located throughout your tooth that stimulate cells, causing short, sharp pains when they're exposed to extreme temperatures. It can even happen when your teeth come into contact with the outside air you breathe. Even if your enamel is healthy and protecting the rest of your tooth, a crack, chip, or fracture on your tooth can allow temperature to affect the nerves beneath your enamel. Oral health problems such as deep cavities and receding gums can also cause your sensitivity. In these cases, you'll want to seek professional treatment before the issue gets worse.
Managing Discomfort Caused By Tooth Sensitivity
There are a few steps you can take to avoid aggravating the nerves below your enamel and ease your discomfort at home.
Use Toothpaste Made For Sensitive Teeth. Certain toothpastes such as ones made to whiten your teeth can increase your sensitivity. Try switching to a special toothpaste made for sensitive smiles to provide relief.
Avoid Abrasive Oral Hygiene Products. Abrasive oral hygiene products like hard-bristled toothbrushes because they can damage your gums and enamel, providing harmful oral bacteria with access to sensitive parts of your teeth.
Limit Consumption of Acidic Foods and Beverages. Acidic food and beverages like tomato-based sauces or concentrated orange juice can aggravate your nerves, so it's best to avoid them.
Salt Water Rinse. If your sensitive teeth are caused by an oral health problem, swishing with salt water twice each day can help relieve pain and reduce any inflammation.
When It's Time To Visit The Dentist
Whenever you experience tooth sensitivity, it's best to visit your dentist immediately in case it's the result of a progressing oral health problem like a cavity or tooth infection. Let them know when your discomfort first started and if anything you do at home helps make it go away. If your teeth are just sensitive, your dentist can provide you with different treatment options and oral hygiene product recommendations.
If you continue to experience out-of-the-ordinary pain for multiple days in a row, it's always best to get your dentist to take a look at the issue. That way, you can treat any problems while they're still small and before they cause you pain.
About the Practice
At Cambria Smiles, we have three knowledgeable and highly trained dentists that have experience treating patients of all ages. Each of them dedicates themselves to continuing their education and sharpening their skills by taking courses every year. Our practice focuses on giving patients the best quality of preventive care to help them avoid experiencing any pain or discomfort caused by progressing oral health problems. For questions or to schedule a routine checkup and cleaning, visit our website or call 805-927-4811.