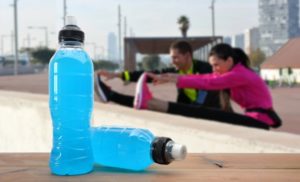 Whether you're an athlete and live on sports drinks, or frequently consume energy drinks to get a necessary boost that carries you through the rest of your day, these beverages can cause major damage to your enamel. Sometimes, it can be easy to overlook the health of your gums and teeth to keep your body going so you can get through your day and be productive. Most people don't know that sports and energy drinks can cause up to three times more damage to your mouth than soda. Visit your dentist and read on to learn just how much of an impact your habit may be having on your mouth.
What Oral Problems Do Sports Drinks Cause?
A study published in the British Journal of Sports Medicine found the most common oral health problems among athletes who regularly consumer sports drinks. Some of these issues include:
Tooth decay. This happens when harmful oral bacteria accumulate and produce acid that erodes your tooth enamel, creating cavities.
Gum disease. This is a bacterial infection of the gums that causes inflammation, irritation, bleeding, and even tooth loss. When plaque accumulates over time, it hardens and turns into tartar, creating the perfect environment for harmful oral bacteria to collect, release toxins, and cause an infection.
Enamel Erosion. When harmful oral bacteria collect in your mouth, they create acid that causes enamel erosion, exposing the sensitive portion of your teeth, dentin. The enamel also protects your teeth from decay.
What Makes Energy and Sports Drinks So Bad For Your Oral Health?
Constantly being at work or studying for school can deplete your energy, encouraging you to consume beverages that help replenish it to get you through the rest of your day. While these drinks can keep you hydrated and active, frequently consuming them exposes your teeth to citric acid and sugar, making them vulnerable.
The reason they contain so much citric acid is that it extends their shelf life and improves the taste. Instead, try keeping hydrated with water and use other energy supplements that may be better for your oral health.
How Can You Protect Your Mouth?
If you regularly drink energy and sports drinks, try limiting your consumption to slowly ween yourself off of needing them. You can help restore your enamel by using remineralizing products like mouthwash and special toothpaste. This will help protect your teeth from further damage and restore their strength. Another way you can do this is by eating foods like milk, yogurt, and cheese that contain calcium and phosphates.
Try substituting water for sports drinks to keep hydrated and eat bananas and whole grains for your daily intake of carbs. If you continue to consume acidic and sugary drinks, drink them out of a straw to limit the contact that they have with your teeth. Lastly, keep in mind that it takes about an hour for your saliva to begin to repair your teeth after drinking these beverages, so try to wait to brush your teeth.
If you'd like to learn how your habit of consuming energy and sports drinks is impacting your oral health, ask your dentist during your next checkup and cleaning. They can also recommend oral hygiene products that can help repair your enamel and keep your mouth protected from damage.
About the Practice
At Cambria Smiles, we have three dentists that look forward to taking care of patients of all ages. Each of them focuses on continuing their education to keep up-to-date with the latest advancements in their field. They believe that building lifelong relationships with patients is the key to providing the highest quality individualized care. For questions or to schedule a routine checkup and cleaning, visit our website or contact 805-927-4811.