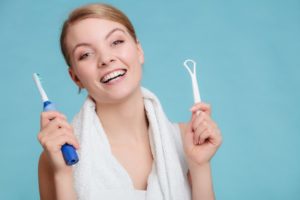 Ever since you were a child, you've been reminded to clean your teeth daily. But what about your tongue? Poor tongue hygiene could be the cause of that bad breath you can't quite shake, even though you brush twice a day. If you're unsure how to go about the preventive measure of tongue cleaning, it might be time to let your dentist explain this simple process.
Why Should I Clean My Tongue?
Your tongue helps you perform everyday actions, from eating to talking to even singing in the shower. This group of unique muscles works closely with your teeth but never seems to get the same amount of attention when it comes to cleaning. However, your tongue is constantly collecting bacteria, food particles and dead skin cells. This buildup can cause a host of issues, including bad breath, tooth decay, plaque and mouth discoloration.
How Do I Clean My Tongue Properly?
The two main ways to clean your tongue are incredibly simple – one can even be done with an item already in your medicine cabinet. Just like your teeth, you should clean your tongue daily. You can use one or both of the following techniques:
Brushing
After brushing your teeth, gently scrub your tongue with a moistened toothbrush (before you rinse the toothpaste off) from back to front. Make sure to brush the sides of your tongue as well, before moving on to the inside of your cheeks and the roof of your mouth for a full clean.
Scraping
A tongue scraper can be used as an alternative or additional cleaning method. This inexpensive device can be found at most California drug stores and is designed to remove the layer of mucus, bacteria and debris from the surface of your tongue. Just like with a toothbrush, gently but firmly move the scraper from the back of your tongue to the front. Rinse the scraper between each swipe and make sure to thoroughly clean and dry it after use.
What If I Experience Discomfort?
If you experience discomfort from brushing or scraping your tongue, you might be applying too much pressure. Hold off on cleaning your tongue for a couple of days to let the delicate skin restore itself. Alternating between cleaning methods may also help. If you have a wound or sore in your mouth, avoid cleaning the surrounding area to prevent irritation and further damage.
Cleaning your tongue is just as important as cleaning your teeth, and with a little practice, it can become a natural part of your daily oral hygiene! Ask your dentist if you have any other questions about tongue cleaning or would like more tips on how to keep your entire mouth feeling great.
About the Practice
At Cambria Smiles, Drs. Badhan, Van Sicklen and Fratto are dedicated to bringing expert dental care to Cambria, CA. They are members of the Central Coast Dental Society, the American Dental Association and the California Dental Association. They have collectively taken over 1,000 hours of continuing education and specialty dental courses to ensure the best personalized care for their patients. If you have further questions about tongue hygiene or other preventive measures, they can be reached at their website or at 805-927-4811.