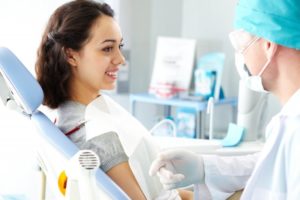 You may not know it, but by scheduling your semi-annual checkup and cleaning with your dentist, you're doing wonders for your overall health. Rather than leaving small problems to become big ones, you choose to tackle them head-on while they're still preventable. Not only does this save you money and time in the long run, but it also safeguards your smile and maintains your bright teeth. But what you don't know is that your dentist is helping prevent way more than cavities. Learn about how your dentist protects you from serious health issues like oral cancer during your routine checkups and cleanings.
Your Dental Checkup and Cleaning Can Reveal More Than You Think
It's wild to think that your body manifests most of its issues through oral symptoms. Gum problems like irritation, mouth ulcers, and bleeding can be tell-tale signs of multiple illnesses. Your dentist can be the first person behind-the-scenes to detect and prevent your overall health from deteriorating by looking for symptoms of the following diseases:
Diabetes
Leukemia
Oral cancer
Pancreatic cancer
Heart disease
Kidney disease
Looking for signs like bad breath and bleeding gums could indicate diabetes. X-rays your dentist takes at each of your semi-annual checkups and cleanings could show bone loss in your jaw. They may even be able to tell if you are at risk for having a heart attack in the near future if you're experiencing jaw pain. Your dentist performs key screenings and examinations to help catch these issues while they're still manageable.
Oral Cancer Screenings
One important examination that your dentist conducts every time you visit them is an oral cancer screening. It's a short and simple process where your dentist will inspect the inside of your mouth for red or white sores or patches. After that, they'll put gloves on and feel around your cheeks for abnormalities or lumps to identify any problem areas.
If they have any reason to be concerned, they may order additional testing to be done along with a biopsy or follow-up visit in order to come up with a diagnosis so you can start treatment right away. These screenings main purpose is to find cancers early when they're most effectively treated.
Connecting Your Oral Health and Overall Health
There are many overlapping risk factors that connect your oral health and overall health. You can have a improve both by implementing these practices:
Establish a regular dental hygiene routine that includes brushing your teeth twice a day and flossing.
Visiting your dentist every 6 months for your checkups and screenings.
Maintaining a nutritious diet and limiting your intake of sugary foods.
Avoid tobacco use.
Your dentist can help watch after your health for you, so why not make it easier on yourself and let them? Following your dentist's suggestions could help prevent terrible oral habits from destroying your overall health. Schedule your checkup and cleaning today so that you can get the peace-of-mind that you deserve.
About the Practice
At Cambria Smiles, you're sure to feel comfortable with our team of dentists. Not only are they enjoyable to be around, but they continue to pursue advanced dental training so they can provide their patients with the highest quality of care. They want to look out for their patient's best interests by treating the small issues before they become costly. For any questions or to schedule a routine checkup and cleaning, visit our website or contact 805-927-4811.